The benefits of exercising are innumerable. While it's easy to try yoga at home or join online fitness classes, visiting a gym helps you stay accountable. And when paired with healthy protein powder, gyming helps with bodybuilding and weight loss.
If you live in New West, you are pretty lucky! There are several gyms, health and fitness centers all over New Westminster. From general fitness to sport-specific to Kids' fitness, these centres cater to people from various parts of the city.
The best gym has specific features that set them apart from others. Let's take a look at a few standard well-known gyms in West Minister.
Top Six Gyms In New West
We've curated a list of fitness centres with top-notch cardio and strength equipment or high-intensity interval training. All you have to do is pick one that suits your taste! Now, let's dive in.
Dynamic Health and Fitness
Dynamic is a privately owned health and fitness club established in 1999. It is located at 800 Carnarvon Street, New Westminster, and is run by the owner, Jeff. It has excellent, friendly staff who are approachable and always ready to help.
With a female-only section, it is the only gym in New Westminster to offer this feature. It also provides a Co-ed section, a favorite for most members.
The gym is famous for its professional and friendly staff, excellent features, like the infrared sauna, budget-friendly membership fee, and proper maintenance. To help many men and women obtain and reach their personal health and fitness goals, the gym created various programs to change the members' lives.
Dynamic has a club that spots full-service change rooms, private group fitness classes throughout the week, and one-on-one personal training. Hence, it's no surprise that it has won awards as the best gym in New Westminster several times, even in 2023.
Anytime Fitness
Established in 2010, Anytime Fitness has 2 branches in New Westminster, located at 199-610 6th St, New Westminster, BC, and 1110 Ewen Ave Ste 120, New Westminster, BC V3M 5E4. For starters, new customers get a free 7-day pass. The membership program includes a free, no-pressure fitness consultation, global access to more than 4,500 gyms, and open 24/7 convenience.
The membership fee varies from $44.99 to $68.99/month depending on a plan duration, with an enrollment fee of $25 and a Key Fob fee of $50. Other benefits include one-on-one personal training, group workouts, convenient parking, worldwide club access, private restrooms and showers, free classes, etc.
A great feature of Anytime Gym is the flexible workout plan they offer. It's not a one size fits all program. They develop a plan that fits members– a total fitness experience designed around each individual's abilities, body, and goals.
As a member, your plan will contain a 360 approach to your health. The club also has its own app with personalized workout plans and daily tips. So, you can send messages to your Coach, connect with the gym's community, and book training sessions.
Kalev Fitness Solution
Kalev Fitness Solution is a well-equipped fitness facility with an incredible environment known for its atmosphere of growth and encouragement. Established in 2000, Kalev is located at 128 W Pender Unit 102, Vancouver, BC V6B 1R8. Staff are highly professional, knowledgeable, and adaptable to the client's personality, confidence level, and learning style. This kid-friendly gym discounts members' plans and rehab sessions and welcomes walk-ins and free consultations with free parking.
It's also famous for its health plans. At Kalev, members get to have a team of specialist trainers working one on one or in a group. Each trainer is there to help members achieve fitness goals faster. You'll have access to a cardio specialist, a nutrition expert, and a Fitness Class specialist. Furthermore, you have a pre-screened network of pros you can choose from to include in your personal training program. As icing on the cake, Kalev Fitness offers a range of membership packages to suit different budgets and commitments. From flexible month-to-month options to longer-term plans, there's a choice for everyone.
Strong Side Conditioning
Known for its physical therapy and active rehab programs, Strong side conditioning is a great fitness club located at 739 Carnarvon St, New Westminster, BC V3M 1E6, Canada. It is not just a fitness center. It doubles as a community that helps its members discover their inner strength to persevere, conquer challenges, and defy expectations. The staff is friendly, approachable, and supportive. In addition, trainers create an exciting training program tailored to your specific needs and goals. They will teach you how to work the right muscles for the most benefit. And provide guidance or supervision to ensure you are on the right track. Did we also mention that it's Wheelchair-accessible and dog-friendly for better inclusion? What else could you ask for?
CrossFit Fitness
Located at 409 Boyne St, New Westminster, BC V3M 5K3, Canada, CrossFit is like another home for many of its members. The communal spirit is evident during group workouts. In fact, individuals motivate each other to succeed, fostering an environment of shared achievement. With fantastic staff, expert coaches, and top-of-the-line equipment, this gym provides a platform for individuals to push their limits, build strength, and enhance their endurance. From general fitness to sport-specific training, CrossFit can help improve your health, lose weight, and achieve your set fitness goals.
The center offers a swimming pool, wheelchair-accessible parking, and entrance. Want to join foundational classes for beginners? No worries. Or do you want advanced sessions that challenge even the most experienced athletes? This gym ensures that every member finds a class that suits their needs. Overall, CrossFit is an exceptional choice for people seeking a dynamic fitness experience beyond the conventional.
1UP Fitness
1UP Fitness is popular for its modern fitness design. Top-of-the-line equipment, from cardio machines to strength-training apparatus, the gym provides members with all the tools they need for their workout routines. 1UP Fitness' coaching team comprises professionals who are partners in your fitness journey, not just trainers.
The coaches work closely with members to create personalized workout plans, offer hands-on guidance, and ensure optimal form to maximize results. The center is a sanctuary for individuals seeking a multifaceted approach to fitness and well-being. With its wheelchair-accessible facilities, it caters to gender-neutral people and is LGBTQ+ friendly.
Centennial Community Centre
The community center is a welcoming and convenient place for various activities. It has a clean and well-maintained facility, which immediately makes you comfortable. The gym area is equipped with a decent selection of exercise equipment, catering to different workout preferences. While the gym isn't overly spacious, it offers the essentials for a good workout session.
You'll have access to various classes and programs at the community center and enjoy a customized workout plan. All the coaches are friendly and helpful in guiding you through the process regardless of how much support you need. What's more? The range of classes provides an excellent option for all fitness levels.
One aspect that stands out is the sense of community among the members. It has a positive atmosphere, with people engaging in conversations and supporting each other. This makes your experience more enjoyable and motivating.
In terms of location, the Centennial Community Centre is conveniently situated. Thus, it's accessible for both residents and commuters.
What To Look Out For When Choosing A Gym
When choosing a gym that aligns with your fitness goals and preferences, several specific features must be considered. Each person's preferences might vary, but here are some important factors to look out for when selecting a gym:
Location and Accessibility
A conveniently located gym, preferably close to your home or workplace, would be perfect. An easily accessible gym increases your likelihood of being committed to your workout routine.
Facilities and Equipment
When choosing a gym, check that it has a wide variety of well-maintained equipment that suits your workout preferences. A good balance of cardio machines, strength-training equipment, and functional training spaces should be on your list.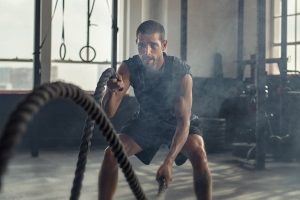 Membership Options and Pricing
Also, check out the membership options available and their corresponding costs. Look for pricing transparency and ensure that the membership fee fits your budget. Before signing up, you should pay attention to the gym's cancellation policy and terms.
Expert Staff
Knowledgeable and certified trainers and gym staff can significantly impact your fitness journey. Ask about the qualifications and experience of the trainers at the gym. You don't want your fitness journey in the hands of an incompetent trainer.
Cleanliness and Hygiene
Pay attention to the cleanliness of the equipment, locker rooms, showers, and common areas. A hygienic environment would be a positive motivation for you.
Additional Services
Some gyms offer additional services like nutrition counseling, personal training, massage therapy, and more. Consider whether these services align with your needs and goals.
Reviews and Reputation
Research online reviews and ask for recommendations from friends or residents of the community. Hearing about others' experiences can provide valuable insights.
Curious about the recreation options or tourist attractions that New Westminister has to offer? Beyond the gyms, you'd be spoilt for choice while picking activities.
 What Next?
While there are several other awesome gyms in New Westminster, these 6 are some of the most popular. Your fitness journey is personal, so prioritize the most essential features. Visiting the gym in person, asking questions, and taking advantage of trial periods will help you make an informed decision that supports your health and wellness goals. Now, get that fitness journey started.